Fundação AFID Diferença
Details
ID : 45
Rua quinta do Paraíso, Bairro Alto do Moinho, Amadora, 2610-316, Lisboa, Lisbon, Portugal
5213 views
Location: Rua quinta do Paraíso, Bairro Alto do Moinho, Amadora, 2610-316, Lisboa, Lisbon, Portugal
Featured: Yes
Contact person: Juvenal Baltazar
E-mail: Juvenal.Baltazar@fund-afid.org.pt
Website: www.fund-afid.org.pt
AFID promotes the autonomy and social support, health, education and training for persons with disabilities and other groups, fight exclusion andd guarantee excellence in service provision.
Scope: Nursery, Kindergarten, Occupational Activity Centre, Residential home, Vocational Education Training and Home Care Services of Centro Social e de Reabilitação do Zambujal, Centro de Recursos do Zambujal, Centro Social de Alfragide and Creche da Venteira.
Vision
A quality and active life for people with disabilities and other target groups in an inclusive society.
Target group
People with mental disabilities from 16 years,
Children with mental disabilities and special needs (0-6),
Elderly people,
Children
People with Physical rehabilitation needs.
Information in Portuguese:
Missão: Promover a autonomia e o apoio social, saúde, educação e formação de forma Sustentada, combater a exclusão, proteger os clientes, o património da Fundação e garantir a Excelência na prestação de serviços.
Visão: Vida Ativa com Qualidade para as pessoas com Deficiência e outros Públicos-Alvo, numa Sociedade Inclusiva.
Grupo-Alvo
Pessoas com deficiência mental a partir dos 16 anos,
Crianças e jovens com deficiência mental e necessidades educativas especiais (0-16),
idosos,
crianças(four months until 6 Years)
Pessoas com necessidades de reabilitação Física.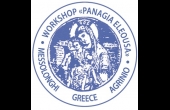 Workshop Panagia Eleousa
EQUASS Excellence
Kyprou and Arch. Damaskinou Street, Messolonghi, Etolia, 30200, Grecia Occidental, Aetolia-Acarnania, Greece